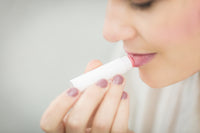 We Use Pure & Natural Ingredients in Our Products!
All of our products are handmade, organic, and free from dyes and chemicals. We make our products from ingredients such as Beeswax, Shea Butter, Coconut, Grapeseed, Sunflower, Rosehip, Jojoba oils, Carnauba wax, Mango-Papaya & Lemongrass oils. Our products are naturally fragrant, with scented oils and herbs such as Chamomile, Lavender, Clary Sage & Geranium oils, just to name a few.
See Catalog
Our mission is to grow awareness about today's chemical based products while providing all natural alternatives. We believe the human body was designed by God to process natural ingredients, not synthetic chemicals. Therefore, we should protect our largest organ, the absorbent skin, by knowing the ingredients we are using and what they can do to the body. So, let's raise awareness about toxic ingredients and get back natural!

Lily of the Valley Team
match soaps with your skin type - just click the icon!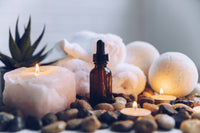 Can't Find It? Create It!
Looking for a unique skin care solution that you can't find anywhere? Let us know your idea or issue and see what LOTV can create for you! After extensive research, we will combine the oils, herbs & techniques required to solve the problem. Minimum quantity may be required.
Contact us today!
Real results.... with real customers
Mountain Rub is awesome!! Having gone through breast reconstruction following cancer, I have been dealing with severe muscle spasms. I was a true skeptic, but after using this product, I have not taken any muscle relaxers or pain meds since my first use. Thank you, thank you for the true relief from pain!!!!

Andra
Love love love the soaps, body butter and the ageless cream. I can truly tell a difference in using these products. Thanks!

Twyla
I purchased quite a few products from Lily of the Valley Soaps. I absolutely love them all!!! All natural ingredients, great for your skin!! My skin would feel dry right after I would shower and would always have to apply lotion afterwards. I have NOT had to use any lotion after showering with this soap! I love that it's all natural and so good for my skin!! Check them out...you'll be glad you did!!!

Michelle
Susan's products are well thought out and deliver as promised with great scents to boot. I stock my cabins with her soaps, chap stick and essential oils.

Joni
I bought Granny Salve and Body Butter while they were at a craft show in Destin, Fl. The very next day I burnt my thumb pretty good on my curling iron after rinsing with cold water I thought to grab the Granny Salve and put it on. Instantly took away the burning and I only had a very small blister which was gone in less than 12 hours!

Ashley Gisi
The charcoal and clay bars are AMAZING! I can finally say goodbye to my oily face!

Jacob
I love the Granny Salve for just about any skin problem especially scrapes or abrasions. The Mountain Rub is great for my sore hip. Works almost instantly.

Karla
The Granny's Salve helped so much! It is a must have in the first aid kit. Don't get me started on the Mountain Rub, without it the aches and pains would be unbearable. Thank you for making such great products!!!

Roger
Bought your Paws soap for friend's dog with itching problems. She told me today after one shampoo dog's itching stopped. Even the prescription from get didn't work. Also bought Granny's Salve & it is wonderful. Met you over Thanksgiving at Brssstown Valley Resort craft show. Thank you for such good products. Will order more soon.

Susan