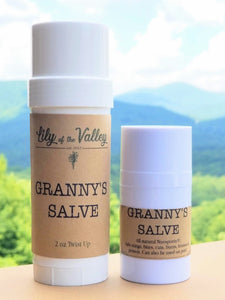 Granny's Relief Salve
Lily of the Valley Soaps
Regular price $22.00 Sale
Promotes new cell growth which speeds up the healing process while also providing pain relief and Antiseptic qualities!
Aids stings, bites, cuts, burns & bruises. Can also be used on pets! 
*Will stop stinging, itching, or burning within 60 seconds!* 
Minimizes scarring | Excellent for dry skin
Ingredients: Beeswax, Shea Butter, Coconut, Grapeseed, Sunflower, Rosehip, Argan, Jojoba oils, Carnauba wax, Calendula, Comfrey, Tea Tree, Lavender, Oil of Oregano & Camphor oils.
*Will expire after 1 year.