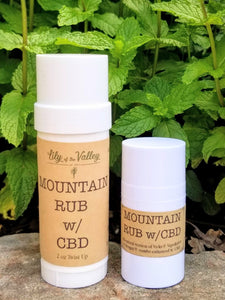 Mountain Rub Extra Strength
Lily of the Valley Soaps
Regular price $22.00 Sale
LOTV's all-natural version of Vicks
® VapoRub® & Bengay® combo with CBD & Menthol 
1) Relieves body, muscle & joint pain; CBD strongly enhances the pain relief ranging from cramping to arthritis to spasmatic muscles.
2) Aids sinuses by decongesting and moisturizing the membranes when applied up the nose. 
3) Soothes headaches when applied to pressure points; temples, back of neck, underneath jaw line, in between eye brows.
Ingredients:
Beeswax, Shea Butter, Coconut, Grapeseed, Sunflower, Rosehip, Argan, Jojoba oils, Carnauba wax,

Eucalyptus, Peppermint, Wintergreen, Bergamont Oil, Virgin Pressed CBD Oil.

*Will expire after 1 year.